When embarking on a journey to Italy, whether on a tourist or student visa, it's essential to understand the visa financial requirements. Navigating these requirements can be a complex task, but having a solid understanding of them is the first step in making your Italian adventure a reality.
Do you need a visa?
To begin with, it's important to determine whether you'll require a visa, which depends on the duration of your stay for academic purposes and your passport's nationality. To find out if you require a visa, consult the official website of the Italian Ministry of Foreign Affairs and International Cooperation or refer to our dedicated article on the subject.
If you fall into the category of those requiring a visa, you will notice that one of the visa financial requirements entails demonstrating that you have the necessary financial resources to support your expenses during your intended stay. This requirement is in place to ensure that visitors have the means to cover their expenses and do not become a burden on Italy's social welfare system.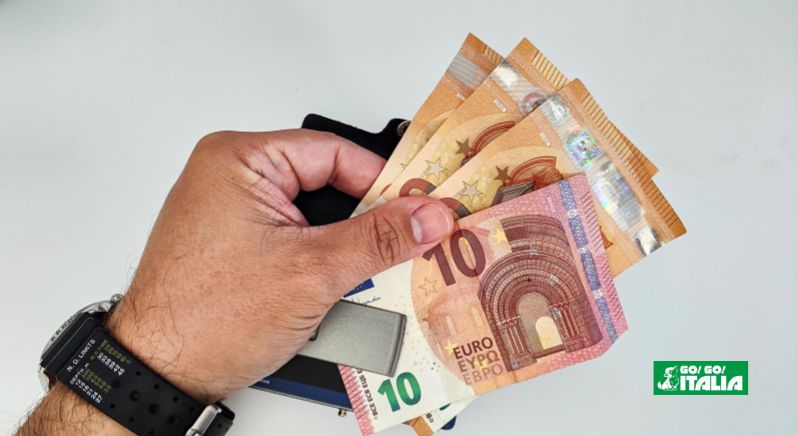 Visa financial requirements for studying in Italy
The visa financial requirements vary depending on the duration of your stay. As a general guideline, it is advisable to budget approximately €1,000 to €1,200 per month to ensure you are financially prepared for your stay. Keep in mind that the actual amount you'll spend may vary based on your personal preferences and choices, but this range serves as a helpful approximation.
These financial prerequisites are determined by the Italian government, and they pertain exclusively to the minimum financial means required to qualify for a visa. They do not encompass expenses like flight tickets and school fees. For a detailed breakdown of these requirements, refer to the table provided by the Italian government, which we have translated below for your convenience: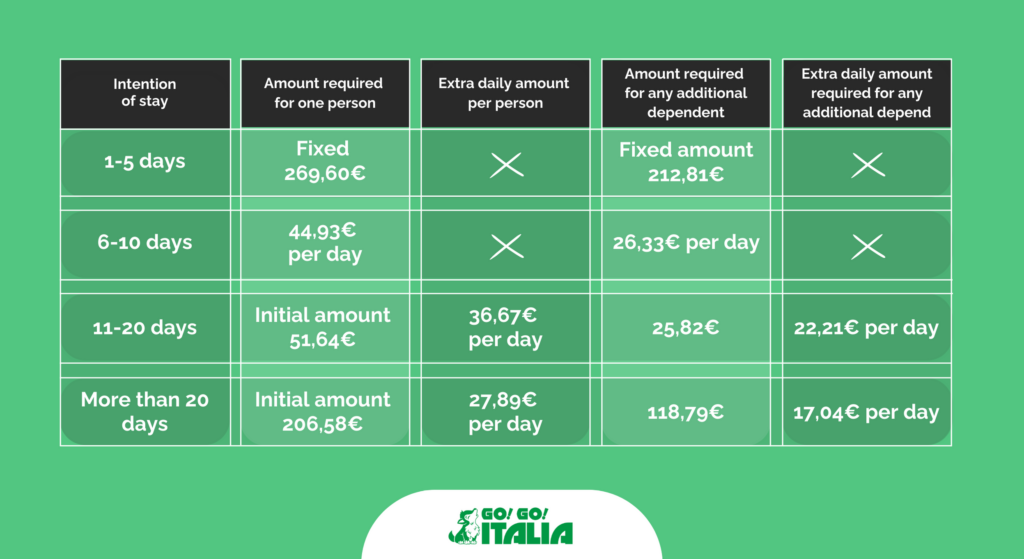 Are you finding these guidelines a bit perplexing? Let's break it down by examining a few scenarios:
Short stay
For those planning a brief study of 1-5 days, you will need a total of €269.00 at your disposal. If you have family members accompanying you on your journey, you will need to allocate an additional €212.81 for each family member to meet the financial requirements
Long stay
If your plans involve a more extended stay, such as 30 days or more, the initial amount you must have available is €206.58, regardless of the total length of your stay. Additionally, you will need to set aside €27.89 per day for yourself, which accumulates to approximately €1,000 per month.
Should any of your family members be joining you for a stay of 30 days or more, the initial amount required is €118.79, with an additional €17.04 per day for each family member. This ensures that you meet the financial criteria for your extended stay.
How to prove you meet the financial requirements?
This will depend on the type of visa and your local embassy. Generally speaking, for the student visa they require to present a record of your personal bank account transactions or of your parents acting as guarantors, demonstrating a stable and adequate balance over the past six months prior the application. This will be required when visiting the local Italian embassy to initiate the visa process.
If you're still feeling uncertain about these requirements or have specific questions, don't hesitate to get in touch with us. We are here to provide you with the guidance and information you need to navigate the visa application process successfully and to enjoy your stay in Italy to the fullest.
your actual expenses may vary depending on your individual choices and circumstances.
We are committed to assisting you every step of the way, from visa applications to settling into your new Italian life. Stay updated with our blog for insightful content covering life in Italy, the captivating culture, and the enriching experiences that await you during your stay.